We thought you might like to read some feedback from donors who have met one of our New Canvassing experience team. We make a verification and welcome call the day after sign up and here are some thoughts and feelings expressed by real donors, on real calls.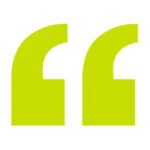 RM from Orange County
Michael was so well-informed about the types of projects and issues with which The Nature Conservancy. I didn't realize how widespread and global the organizational reach is. He also helped me to better understand the value of being a member.
JW from Orange Country
I think Jewels was new, but she was excited with what the organization was doing and was able to answer all my questions. She relayed a sense of how important charity is.
AL from Philadelphia
It's Jess' amazing personality that drew me in. Her friendly attitude. Listened to my story (I am a Jersey Shore girl) and gave relevant info about The Nature Conservancy projects (beach related) based on that. Very proficient with tablet.
HR from Orange County
Francisco has a passion for improving our local riverbeds. I agree with his vision and would like to see our local rivers restored to a more natural habitat.
MF from Los Angeles
Eric is amazing ... his commitment, vision, enthusiasm for the good work he and The Nature Conservancy are doing and the depth of tis intellectual understanding of the stories he's experienced.