It's Canvassers that make the difference. You know this, and so do we. It's why we focus so much on recruiting and selecting the right people and giving them the best training we know how to.
It's also why we designed a compensation plan to ensure that our canvassers are among the best paid in the world, with a living basic wage and a generous bonus structure wholly based on quality metrics which directly affect our clients' Return on Investment.
All of our Canvassers are employed members of staff. We wouldn't entrust any conversation to independent contractors.
We pride ourselves on our people; on how they represent our clients, and the stories they tell. We thought you might like to hear some of their stories too.
Jen
Originally from Vancouver, Canada, Jen is an experienced Canvasser who is enjoying the year round sunshine in Santa Monica. When asked what was different about working for NCE than other agencies, she referred back to the cause: that she wanted to fundraise "for children" and enjoyed being part of our Save the Children campaign.
Alyssa
Alyssa, originally from Idaho, is one of our San Diego Team Leaders. When asked about the best part of the job, she mentioned that she found it incredibly rewarding to raise funds so that other women around the world would experience the same medical care that she benefits from in the US.
Dominique
Dominique, from San Diego, is one of our longest serving team members. She highlighted "the people we get to meet" as the best part of working for NCE
Julia
Julia joined the San Diego team in September and is enjoying meeting new people on behalf of Save the Children. When asked what she liked most about her career, she talked about the opportunity she has to "not be stuck in an office" but rather to ensure that the people she meets "have a fulfilling experience" of making the world a better place.
Mo
Mo has been fundraising in our San Diego office for over two years. Never someone who is lost for words, Mo said: "The best thing by far is getting to be the person who hugs the new supporter. I know that I am hugging on behalf of the millions of children who will never get to say "thank you" in person"
Pedro
Pedro is San Diego born and bred and works in his hometown office. He joined the team in January 2016. When asked to describe the best thing about canvassing for NCE he said "the results; what we are able to accomplish".
Parris
Parris is a Team Leader who has been fundraising in Austin, TX for two years. When asked to describe himself and why he does this work he said, "I like working out. My body is a temple and my mind is a canvass. I do this work because I enjoy meeting people from all over the world and seeing their reactions when they get involved; I enjoy knowing that I got them to do something good."
Alicia
Another strong addition to NCE, Alicia is originally from Temple, TX. She says about herself: "I love animals, love life, and love getting paid to do something good for the world."
Alexis
Alexis is a welcome new addition to the team in Austin, TX. In her free time she enjoys the outdoors and she's an avid hiker, camper and cook. She is excited in her new role and says: "I like knowing the work I do actually makes a difference."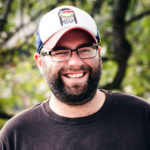 Ron
Ron is originally from Nebraska and has lived in Austin, TX for three years - the same amount of time he has been fundraising with us. He has canvassed for six years in total and currently works as a Team Leader on his favorite campaign with Save the Children. About the work, he says: " I do this because I am passionate about it. Every day I get to help people out of situations that no one should have to endure."
Jamier
An Austin native, Jamier has worked with us for a year in TX. He feels strongly that the work he does allows him to be a good role model for the next generation.