We thought you might like to read some feedback from donors who have met one of our New Canvassing experience team. We make a verification and welcome call the day after sign up and here are some thoughts and feelings expressed by real donors, on real calls.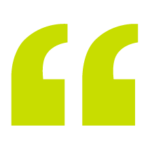 KS from Nashville
"I met Sally Ann yesterday in downtown and she was wonderful! Such a great idea to get out in front of people and happy to say I am a new member of Nature Conservancy as of last night!"
CP from San Diego
"Very impressed with the pair working outside Lazy Acres today. I'd expected to sidestep them, but was drawn into conversation with Donald, who was so well-informed and had such great responses to my queries and reservations that I ended up donating. Kudos to them for representing the organization so well."
LS from Austin
"I have been so blessed in life, and the Canvasser inspired me to want to give something back"
AC from Austin
"This is good for the people that my money is helping around the world, but it's also great for my kids to see that it's important to give to those less fortunate than ourselves."